Our Vision is To create unique public spaces that blend preservation with creative practice — activating history and Heritage through innovative urban design and arts programming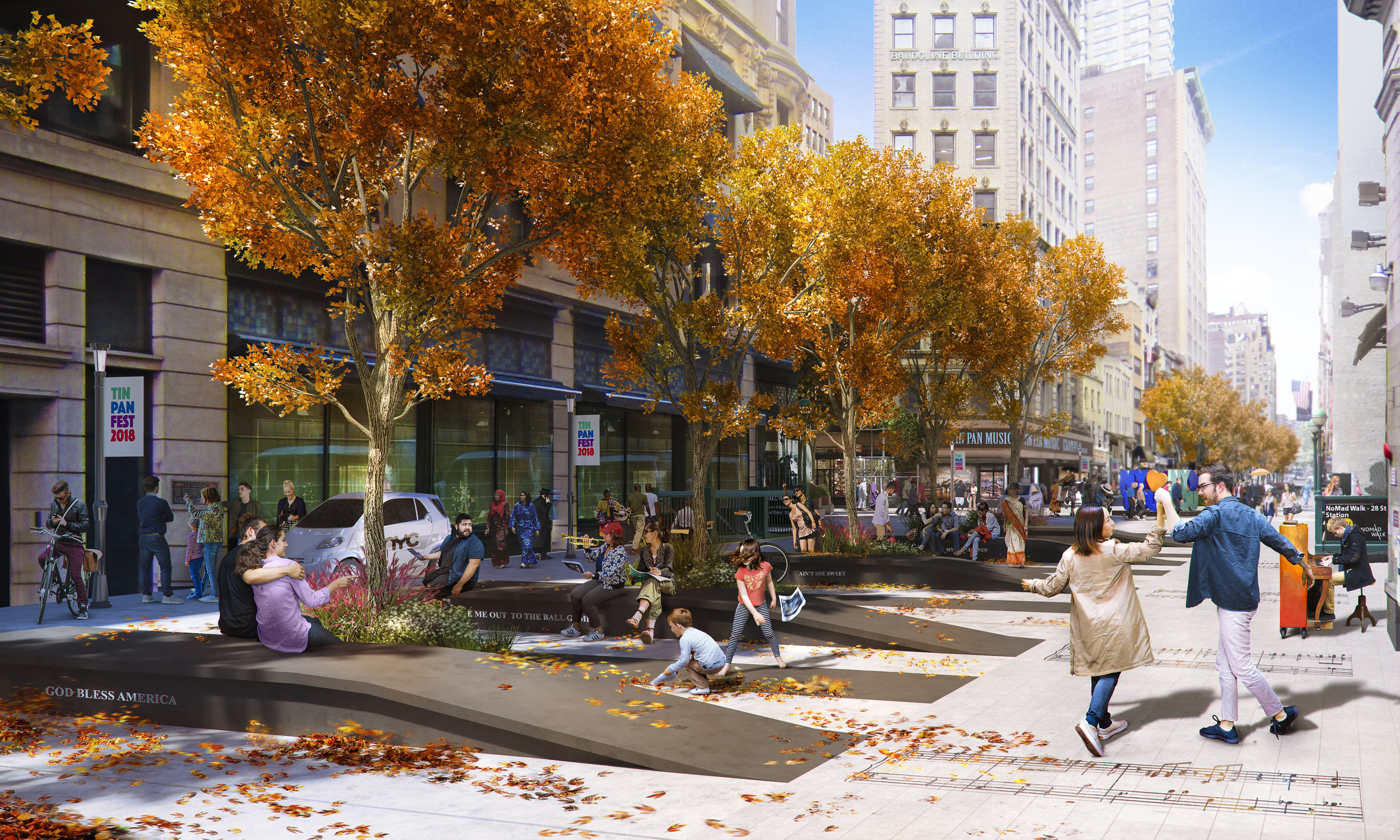 New York's Main Street
Broadway
At the turn of the last century, Broadway between 23rd to 42nd St was known as "The Line." It was the "Main Street" of The Tenderloin – the historic heart of entertainment and night life in Manhattan.
Lined with dance halls, music venues, nightclubs, saloons, bordellos, and gambling casinos, this stretch of Broadway was an international destination for writers, directors, actors, musicians, dancers, and socialites. Illuminated by an astounding number of electric light bulbs, it was the Times Square of its day.
On either side of Broadway along West 28th St, popular music and American show business flourished.
The BirthPlace of American Popular MusiC
Tin Pan Alley
Between 5th and 6th Ave, West 28th St was known as Tin Pan Alley – the birthplace of the American popular song and countless vaudeville and Broadway show tunes.
The name Tin Pan Alley refers to the sound of numerous cheap upright pianos played by "song pluggers" peddling sheet music to would-be buyers.
George Gershwin, Irving Berlin, Harold Arlen, Scott Joplin, Johnny Mercer, Cole Porter, and Fats Waller were among the many famous composers of jazz and popular music working here.
The songs written on Tin Pan Alley have defined the American popular songbook, including standards like God Bless America (1918), Give My Regards to Broadway (1904), Hello Ma Baby (Hello Ma Ragtime Gal) (1899), My Blue Heaven (1927), Over There (1928), Sweet Georgia Brown (1925), and Take Me out to the Ball Game (1908).
NoMad Walk will celebrate the legacy of Tin Pan Alley through innovative plaza designs commemorating the contribution of the performing arts to New York City and unique neighborhood events including lunchtime recitals and performances, sound art installations, performance art events, and an annual Tin Pan Fest.
The Tulips of New Amsterdam
The New York Flower Market
NoMad Walk will collaborate with local florists in NoMad on seasonal horticultural designs celebrating over 100 years of the New York City Flower Market.
The Advent of Electricity and Street Lighting
The Illumination of Broadway
NoMad Walk will program innovative illumination and lighting design celebrating the electrification of Broadway and New York City and the ingenuity of renowned NoMad resident Nikola Tesla.